Snake Removal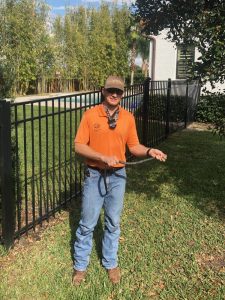 Snakes are very risky to handle. If one happens to spot a snake in his property, initial reaction would most likely to panic especially if he doesn't have any experience in handling snakes at all. But it's quite common in Florida, whether you live in an urban or rural area, to see snakes every once in a while. This is why we highly recommend our clients to have our number on their phone book or on speed dial so that professional assistance may be called right away! Our snake removal service is a must if you suspect a snake on your property, as trying it on your own is simply too dangerous and too much to risk.
Truth be told, there are some snakes that are considered generally harmless. There are certain species of snakes which are not classified as venomous. However, it can be challenging to distinguish between a safe or a dangerous snake at first look, especially if one is already starting to get worried about his and his family's safety. Furthermore, even if you believe a snake seems to be safe, it is still most ideal to call professionals unless you're absolutely 100% sure you can handle them on your own.
Venomous Snakes in Florida
Of the 45 different types of snakes found in the state of Florida, six are classified as venomous. These include:
Coral Snake
Cottonmouth (or Water Moccasin)
Eastern Diamondback Rattlesnake
Southern Cottonmouth
Pygmy Rattlesnake
Timber Rattlesnake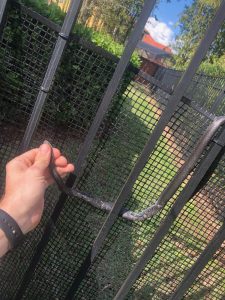 To the average home or business owner, these snakes may not be easy to recognize and therefore Animal Wildlife Trappers should be contacted any time a snake has made its way onto your property, or worse, in your home or business. Snakes can enter into the home or building through a number of unsealed openings such as waterspouts, cracks in the foundation, open garage doors, among others.
In many cases, the snake will be non-venomous, however, even non-venomous snakes can be aggressive and spread bacteria from a bite. For the safety of your family, friends, and pets, it is always advisable to have a trained professional come out and identify the species to determine if it must be removed. If you are bitten by a snake before Animal Wildlife Trappers has arrived, seek medical attention.
Snake on Your Property: What You Have to Do
When one spots a snake in his property, the first and foremost thing to remember is to not panic. Stay focused and calm as your frantic reaction may even aggravate the situation even more. The snake may feel threatened and become aggressive, which could cause even more trouble for you and the people in your property. Remember, keep you calm and focus. Here are the things you can start doing instead:
Clear the area where you saw the snake. Make sure that all people and pets are not in that area to avoid any accidents.
If a snake was found indoors, close all possible exits and lock the snake inside a room until animal trappers come to help.
If you're not sure where the snake is in your home and you can't seem to find it, use a snake trapper instead. Especially if you spot snakes around your area quite regularly, it's good to have one of these trappers you can find on the market to help you catch the snake.
Seal possible entry points of snakes in your property. This includes cracks and holes in walls, windows, doors and more.
Most importantly, call a professional to help you remove the snake from your property.
Professional Snake Removal Services
Dealing with a snake is always very risky, especially if you are unaware of whether a snake is venomous or not. Call professional snake removal services when you find yourself in this situation. Animal Wildlife Trappers has been in the business for many years–long enough to be considered experts in all kinds of animal removal from small mice to large raccoons, bobcats and more. We've been called way too many times for snake removal in the Orlando area and surrounding communities. We have the right set of equipment, trained experts and proper knowledge to ensure that these snakes are removed the safest and most humane way possible.
If you could, avoid catching these snakes on your own. Call Animal Wildlife Trappers for assistance and we will do our best to be in your property to help you out in removing snakes the soonest time possible. For snake removal in Orlando, Maitland, Longwood, Winter Park, Deltona, Sanford, Windermere, Ocoee, Lake Mary, Clermont, Apopka and other nearby cities, we are the company to call. You can reach us at 352-267-0546 for a free estimate and to set an appointment.