Skunk Removal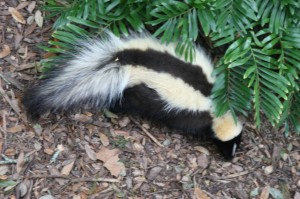 At first look, one could say that skunks are pretty cute. But as soon as they feel threatened and managed to spray you, you'd have days' worth of stink. There are two kinds of skunks found throughout Florida with the exception of the Keys. These are the Striped skunk and the Eastern spotted skunk. Aside from their physical markings, these skunks are similarly sized. A skunk has a bushy tail, short legs, and a small head. They're about the same size as a regular house cat.
Though skunks are very much alive in Florida, there's not much of them seen during the day. That's because these skunks are more active during nighttime. They eat plants and smaller animals. If there are brush piles, burrows left behind by armadillos, high grasses, and other concealed areas in your yard, skunks may just take shelter there. If you spot one in your property, it is highly recommended for you to call assistance from the pros. Animal Wildlife Trappers can help you out. We have a team of experts who are extensively trained in handling critters such as skunks.
As mentioned, there is nothing like the foul odor of skunk spray. Skunks are known for spraying, digging holes, breaking into garbage cans, and getting themselves trapped in a number of inconvenient places. They are drawn to areas surrounding homes and buildings with porches, crawl spaces, decks, and nearby sheds because they like to live underneath them. It is always best to contact Animal Wildlife Trappers when a skunk makes its way onto your property because where there's one, there is likely another, and if you or one of your pets gets sprayed, it is a hairy job getting rid of the odor.
Here's a little bit of good news though. There are very few reports of skunks biting humans. They may spray you as a defense but they would rarely bite. However, there are people who bring in skunks as pets. Their scent glands are removed when they are tamed. These usually are the ones who end up biting people because they no longer have any other way of defending themselves. Skunks may carry the rabies virus, which is why they're very dangerous to humans and smaller pets.
Professional Skunk Removal Services
Animal Wildlife Trappers will use a live trap to quickly catch the skunks living on your property and remove them. We will also work with you to identify where the skunks have made their home and install a barrier, fencing, and/or seal off any openings to eliminate others from invading your property. We make sure that if there are more of them in your area, they'd have a hard time, even an impossible time, entering your property.
We service areas in Orlando, Windermere, Ocoee, Lake Mary, Clermont, and nearby communities. Animal Wildlife Trappers is a top animal removal contractor in the Central Florida area. We take pride in our team of experienced wildlife removal experts and the trust our clients have consistently placed on us over the years. If you need assistance, we are more than happy to help. Call 352-267-0546 for a free quote.