Seagull Deterrent
If you have a seagull problem on your property, then you know well what a nuisance these beautiful birds can be. They are highly popular with artists and beach goers, but they can also be a real hassle with their often invasive habits. As a result, we offer seagull deterrent services, also known as seagull control.
At Animal Wildlife Trappers, we are professionals at animal removal and critter control, and this includes birds. Many people often do not associate birds with being a nuisance animal, but if seagulls dial in on your home or property, you will quickly find out how much of a nuisance they can be. And the longer you let the invasive problem go along, the bigger the problem they will become as they bring more and more friends and family to the party. Before long, you can have a real mess on your hands!
Visual Deterrence for Max Control
At Animal Wildlife Trappers, we are experts in visual deterrents that will eliminate targeted animal nuisance problems, such as seagulls. We can meet with you at your home, business, or property, and review the seagull control issue, and develop a thorough and effective strategy with visual deterrents that will put an end to your seagull problem, and we guarantee our work will be 100% effective or the job is not done. Our visual effects are very effective and very powerful, and soon your property will be the last choice of seagulls in your area. This will restore your peace of mind, as well allow for a clean and peaceful property.
Seagull Diseases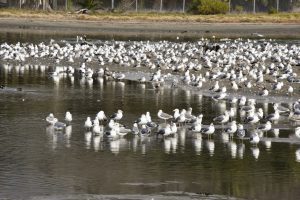 A seagull deterrent plan for your property can certainly eliminate the nuisance of an invading animal, but equally important is that it will remove the threat of disease. Seagulls are a beautiful bird in flight, but unfortunately, they also carry disease that can be a serious threat to you and your family in rare cases.
Some of the diseases that seagulls can carry are Escherichia Coli (E. Coli) and Salmonella, which we all know are extremely dangerous. Additionally, a seagull's waste can carry fungal infections such as Cryptococcosis and Histoplasmosis. Although these would be unlikely to impact human's in most cases, why take a chance being around these toxic materials? And if you have pets, you will not want your pets around these potential problems either.
If you have a problem with seagulls invading your home or property, call Animal Wildlife Trappers at 352-267-0546 for a free quote. We offer professional animal removal and animal trapping services in Orlando and all of Central Florida.