Peacocks Removal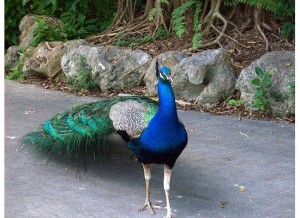 Undeniably one of the most beautiful birds on earth, peacocks can be such a lovely sight. However, when they wander off to your property, they can become such a nuisance that you may have to call for peacocks removal service. When you need assistance, Animal Wildlife Trappers is here to help you out.
Peacocks aren't native to Florida. Some brought them in to bring in to their farms or large properties. Some domesticated peacocks and kept them as pets. Peacocks seem to fit right into Florida's laid back and colorful reputation. However, as beautiful as they may be, these peacocks, sometimes called peafowls, are causing problems in many parts of the state.
Among the many problems you may have with peacocks are the following:
They tend to multiply fast and flock together.
They frequently and very loudly squawk causing disturbance to your otherwise quiet and peaceful neighborhood.
Peacocks may peck at the paint of your cars causing serious damage.
Peacock droppings are large — just as large as your dog's.
They can destroy your beautifully landscaped garden in no time as they may feed on shrubs and flowers.
Unless you approach a peacock, it may attack you as a form of their self-defense. While peacock attacks aren't very frequent, there have been records of people, especially children, who are pecked or scratched by peacocks with injuries serious enough to take them to the hospital for stitches.
They're very pretty and large birds. Peacocks are extremely beautiful so most of the time, people forget that they can get pretty dangerous. Unless you have a large yard or farm on your property, then there's no reason for you to keep these peacocks around.
It is highly recommended for you to call on experts for assistance in peacock removal. These birds, when left to do as they please, can end up damaging your property and causing bigger problems. Before they can even start doing that, call for assistance in having them removed right away.
Animal Wildlife Trappers is an expert animal removal company in Orlando. Professionals in our team are extensively trained to humanely and skillfully remove animals from your property including peacocks. We make sure that we keep the animals safe when captured. We also prioritize human safety as well.
We also offer a number of other animal and wildlife removal services including raccoon removal, squirrel removal, rat removal, bat removal, snake removal, and many others. Animal Wildlife Trappers is at your service in Orlando, Windermere, Ocoee, Lake Mary, Clermont, Apopka, and nearby areas. Call us at 352-267-0546 for a free estimate.