Mole Removal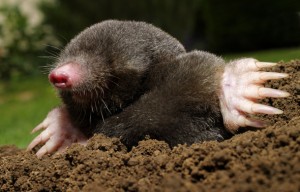 Since Orlando is home to many properties with landscaped gardens and beautiful yards, it is not unusual to spot a mole or two in one's property. In fact, Animal Wildlife Trappers has received several calls for mole removal from homeowners. While these mammals are generally harmless creatures, we understand how annoying they can be when they damage your newly tended garden.
Some confuse moles with rodents because of the way they look. But if you look closely, you'd see how much cuter they are compared to rats. They have lovely and dark velvety fur, small ears and eyes, and a cylindrical body. They have short limbs but the forelimbs come with large paws that they use for a lot of digging. They grow up to 12 cm and weigh nothing more than 90 grams on average.
Are Moles Dangerous?
As mentioned, moles are relatively harmless to both humans and your pets. They feed mainly on insects and other invertebrates found in soil. They are considered nuisance critters though because moles dig through gardens and any moist pile of soil they can find. They build tunnels and bring out all the soil they can get while digging. It's easy to know if moles are on your property when you see lumps or small piles of soil randomly on your garden.
While they aren't really dangerous, it's never a good thing to have to fix up your garden after working so hard to make it look beautiful. In addition, it can get a little creepy and may cause a bit of surprise if you spot a rodent-looking critter on your yard every once in a while, right?
Mole Removal Experts
Some people choose to let moles be instead of calling for mole removal service. When they spot a mole on their property, they leave them around since they can be useful in some ways. As mentioned, these moles are harmless in general. They feed on insects, which is a good thing since they can get rid of the more dangerous ones that can damage your plants or bring diseases to your family members.
If you choose to have moles removed from your property, the best way to do so is to trap them. While they probably won't bite you, they can attack or scratch you with those large paws of theirs when they feel they need to defend themselves. For expert assistance, Animal Wildlife Trappers is ready to help. We can also assist you in preparing your property for the prevention of moles from coming back. Our services are available in Orlando, Deltona, Sanford, Windermere, Ocoee, Lake Mary, and nearby areas. Call 352-267-0546 for a free estimate.