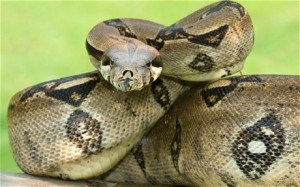 Snakes come out more during the summer season more than any other season throughout the year. You probably won't be that surprised anymore to see one in your Florida home this summer, but it's quite understandable that a snake's presence may still cause some panic. This is why it is very beneficial for you if you know how to get rid of snakes in your backyard.
In some cases, we've even seen some snakes enter homes. They're found in bathrooms, attics, kitchens and other areas of the house. Again, they may cause panic but it is best to gather your emotions together and avoid the panicking part.
So what do you need to do to get rid of these snakes?
First of all, you must know that prevention is always better than having to find a solution when the problem is already there. For instance, there are snake repellents on the market that you can buy, but they won't be much use if you have to deal with a snake now.
In addition, snakes need a point of entry. If your house or garden makes room for a snake to enter, then it would most likely enter. If snakes are common in your area, setting up a fence around your yard or snake traps would be very helpful.
Truth is, unless you're a snake expert and you would know with just one look if a snake is venomous or not, then you shouldn't be handling a snake you spot in your backyard on your own. It is best to call experts for snake removal because they know what to do. And companies like Animal Wildlife Trappers understand that you need help instantly. It is best to save our number on your phone so you have a way to reach us when you need us for urgent concerns.
Our team of experts has dealt with snakes of practically all kinds that are found in Florida. We have the right set of equipment, safety gear and tried and tested methods in snake removal. By calling us, you know for sure that professional help will come in a timely manner.
At Animal Wildlife Trappers, we offer snake removal and other services such as mice removal, raccoon removal, bat removal and more. We serve Central Florida including Lake County, Sumter County, Hardee County and nearby areas. Give us a call at 352-267-0546 for a free estimate and timely assistance.