Chimney Swift Removal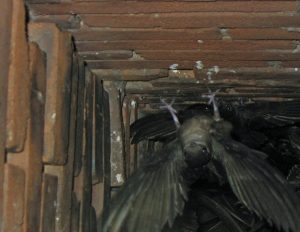 Among the many flying critters that Florida homeowners consider pests are chimney swifts. Instead of settling on trees, shrubs, and bushes outdoors to build their nests, these birds would rather invade your chimney! Chimney swift removal is one of the services that Animal Wildlife Trappers offers because many simply do not know how to get rid of these birds on their own. Aside from being in such complicated locations, handling them is simply better done by professionals.
Aside from chimneys, they'd nest on many other enclosed areas such as your air vents, pipes or covered roof drains. Chimney swifts would rather live in dim areas most likely to prevent being caught by predators. Getting rid of them is not simple at all. To make sure you and these chimney swifts remain safe during the removal process, it is best to call experts to help you out.
Features of Chimney Swifts
Chimney swifts are easily identifiable as small birds with grey and brown feathers. Their bodies are shaped like cigars, and the beaks are wide and flat. They are small feathered creatures that measure about 12 to 15 cm in length with a wingspan of 27 to 30 cm. They can weigh anywhere from 17 to 30 grams. Their size is somewhere between the size of a sparrow and a robin.
They can get a little noisy too. Chimney swifts rapidly fly while twisting from side to side every now and then. They also chatter and tweet while flying. Having them in your chimney is simply not a good thing as they can get annoying while disturbing your home's peace. They may also create potential damage to your air vents and other home structures.
Professional Chimney Swift Removal
Once you've realized there are birds living in your chimney, air vents, and other parts of your home, it is best to identify them first. While you can probably drive away some of them easily, there are others such as chimney swifts that need a little more than just shooing off. For chimney swift removal, it is important for you to call the pros as we have the experience and processes to completely eliminate the problem.
You must also know that once you have identified chimney swifts as the birds invading your home, you don't have much choice but to call professionals in wildlife removal. You don't have a choice during the nesting season because they are protected by law. The Migratory Bird Treaty Act of 1918 is a United States federal law that indicates how no one, except for licensed professionals who have permits to do so, can take, hunt, capture, kill, and sell migratory birds during nesting season, which include chimney swifts.
If you need help with chimney swift removal, you may simply reach out to us and we'll have one of our licensed and certified experts help you out. Not only will we humanely remove these chimney swifts from your property, but we will also help you find ways to keep them out.
Animal Wildlife Trappers offers services in Orlando, Maitland, Longwood, Winter Park, Deltona, Sanford, Windermere, Ocoee, Lake Mary, Clermont, Apopka, and surrounding communities. Call us at 352-267-0546 for a free estimate today!