Bobcat Removal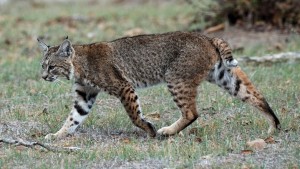 We heard stories of families mistaking bobcats for regular domestic cats that one can have in their home. Because they're much smaller compared to another feline common to Florida, the panther, they seem like harmless and very adorable pets one would like to adopt as their own. However, bobcats are nowhere near the harmlessness of your house cats. It is very important for you to realize that no matter how nice they may look or seem, these are wild animals.
Bobcat removal is one of the most common services Animal Wildlife Trappers get called for. While many of them are found in the wild, deep into the forests and swamps, there are still quite a lot of them wandering into suburban towns across Orlando and beyond. If you happen to see one in your yard, you must call for bobcat removal assistance right away.
While it's hard to mistakenly identify a bobcat from the usual domesticated cat, there's a chance you'd think they are one during their early years. These are medium-sized wild cats when they become adults, so there's really no way for you to get confused. They're larger than your house cat but way smaller than lions, tigers, panthers, and other wild cats. To easily distinguish a bobcat from a regular house cat, here are some of their common features:
Bobcats have short tails called "bob".
Weight: Males – 11 to 68 lbs. / Females – 9 to 33 lbs.
Height: 18 to 23 inches from the ground to its shoulders
Length: About 31 inches
Fur: Brown, gray and white; thick and fluffy
Fur details: Legs may have black spots and/or stripes
Ears: Black, white spot on the back, black on the tips
How Dangerous Can Bobcats Get?
Did you know that bobcats make scream-like noises at night that can get pretty scary? They can also be carriers of the rabies virus. While they won't exactly consume humans as their preferred meals, they can easily attack your pets and other livestock when they're hungry.
There are very few accounts of bobcats attacking humans in Florida. However, it is entirely possible. They would most likely attack as a form of self-defense or when they're rabid. When you get attacked, make sure you seek medical attention right away even if it seems like you only have minor scratches or bites.
Because they can prey on livestock and pets, and of course, smaller children left playing alone in your yard, you must report sight of a bobcat immediately to companies like us, Animal Wildlife Trappers. Do not handle these felines on your own. Even if they look like they're still baby kittens, you'll never know when their mom would come back to their rescue.
Safe and Professional Bobcat Removal
Some homeowners build fences around their property just to keep critters like bobcats away. Others keep plants and shrubs trimmed so they won't have a place to hide. Don't leave food for them because they will come looking for more. Most importantly, call on professionals for assistance urgently for safe and humane bobcat removal.
It may take a little bit of time after calling Animal Wildlife Trappers before we can come to your property. While waiting, make sure your kids and pets are protected and kept indoors. Do not run away from a bobcat. Instead, walk away from it slowly. Running may trigger the feline to run after you, too. In case you have a garden hose within reach, spray it with water to keep it away from you. Bobcats also dislike very loud sounds such as your car beeping or banging metal objects so you can try to do that to keep them from attacking you.
We will do our best to get to your property as soon as possible to help you with professional bobcat removal. Animal Wildlife Trappers offers services in Orlando, Windermere, Ocoee, Lake Mary, Clermont, Apopka, and surrounding communities. Call us at 352-267-0546 for a free estimate.