Bee Removal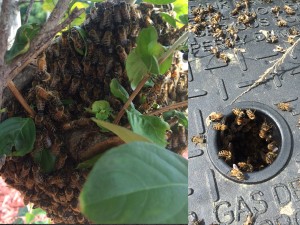 Unfortunately, bees are a common issue for Florida residents. More and more homeowners typically see carpenter bees, bumble bees, and honey bees, but more recently, the aggressive Africanized Honey Bees are making an appearance throughout the state. So if you have a bee problem at your home, your business, or your property, then bee removal might become necessary to remove this potentially dangerous and encumbering threat.
Bee removal should be done by an animal trapping expert because these insects can be harmful when their nests are disturbed and they swarm you, particularly to those with allergies. The average bee nest can house anywhere from 6,000 to 8,000 bees. Imagine a swarm like this attacking after their home has been disrupted, and often times children are curious and prod the hive unaware of the danger.
Common Indications that a Bee Nest is Nearby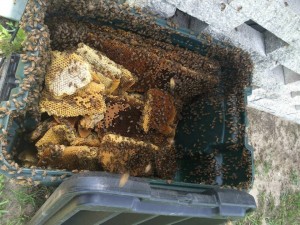 Small tunnel systems or holes found in wood siding, fascia, and soffits
More often in the more tropical areas of Florida, bumble bees will nest in hollowed plants or underground
A general appearance of heavy bee activity not noticed previously
Bee removal is never a good idea to try on your own. You can be seriously injured, and even killed if you attempt bee removal on your own and things go badly. There have been stories of people being overrun by a massive hive of bees, and being literally stung to death. Take this option off the table, and never attempt bee removal on your own. Even a few stings can make for a bad day or even a lost weekend!
Professional Bee Removal in Orlando, Florida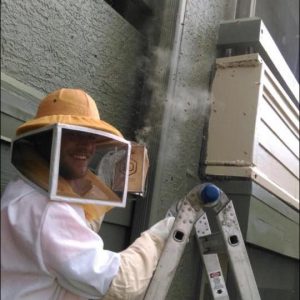 At Animal Wildlife Trappers, we are experts in performing bee removal and have performed hundreds of removals in the Central Florida area. We have the experience, equipment, and skills to quickly and effectively extricate these dangerous flying insects from your property or home, and there will be no remnants of their prior existence.
Call us today at 352-267-0546 for a free quote for bee removal in Orlando FL. We also service all areas in Central Florida including Winter Park, Longwood, Lake Nona, Ocoee, Maitland, Kissimmee, Groveland, Windermere, Clermont, Oakland, and all of the surrounding communities.