Orlando Raccoon Removal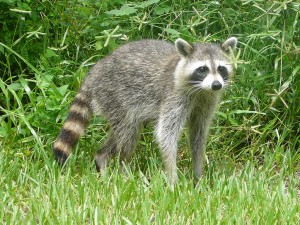 Nocturnal in nature, raccoons are curious culprits who have a habit of getting themselves trapped or building a home in garages, basements and attics. Orlando raccoon removal is a job that must be undertaken without delay if "Rocky" decides to be your housemate.
They are very cute animals, but unfortunately they can be aggressive, carry disease and mites, and can cause significant damage to your property. We always advise calling Animal Wildlife Trappers to trap and remove raccoons from your property rather than attempting to do it yourself. Equally importantly, we can seal off exposed areas and cleanup the mess they leave behind.
While raccoons are commonly associated with rabies, their droppings are actually a more realistic threat to humans, particularly children. Raccoon droppings can contain raccoon roundworm, or Baylisascaris procyonis & B. columnaris, a parasitic worm that is extremely dangerous when inhaled.
The roundworm egg spores can live for years as dry pods, which can be breathed in at any time by humans. Once inhaled, larval parasite migration can occur, which impacts the central nervous system. All of this is a very good reason you should perform an attic sanitation once you have decided on getting rid of raccoons in Orlando! This will ensure your attic is fully sterilized and cleaned for the protection of you and your family.
Other ways in which raccoons can pose a threat:
They have very sharp teeth and claws
They can carry rabies, mites, ticks, fleas, and a number of other dangerous parasites
They tear and claw at anything in their way in order to create a nesting spot
Raccoons leave feces and body oil that leaves a terribly, pungent odor which can attract other raccoons
Never Go Near a Raccoon, and Always Protect Your Animals
Raccoons are indeed very cute, and have a lovable persona in movies and culture. The reality is, however, quite different. Raccoons are one of the two or three most prevalent animals for carrying rabies. You can generally identify a rabid raccoon by its behavior, such as anytime seeing a raccoon during daylight hours which should never happen.
However, it is very risky behavior to try and identify and know whether or not the raccoon has rabies. If you suspect raccoons in your home, call the professionals at Animal Wildlife Trappers for safe and professional Orlando raccoon removal, and always at a competitive price. This is one animal definitely do not want as a roommate!
Symptoms of a rabid raccoon:
For raccoon removal in Orlando FL, call Animal Wildlife Trappers at 352-267-0546 for a free estimate, or a free consultation. We service all of Central Florida, to include Orlando, Ocoee, Clermont, Apoka, Maitland, Deltona, Windermere, Lake Mary, and the surrounding communities.
Raccoon Removal and Humane Relocation
Carefully removing a family of raccoons and relocating to a safer and better home: