Coyote Removal
Coyotes are one of the most common critters found in all counties in Florida. Whether you live in a rural, suburban or urban neighborhood, there are high chances for you to encounter a coyote at least a few times. This is the primary reason Animal Wildlife Trappers are called for coyote removal services frequently by homeowners. We remove coyotes in a humane and safe manner.
If for some reason you haven't encountered a coyote yet, you can identify it easily by its look. It seems like a cross between a fox and a dog. Its fur is a mix of tan, brown, grey and black. They may seem very scary at first because of their sharp teeth, but coyotes are actually afraid of adult humans. If you yell or wave your hands to a coyote, they will most likely run off.
Signs of a coyote include:
Tracks through the yard, similar to a dog's tracks, but slimmer and longer and often imprints are left from only the first two claws
Black or grey scat, or feces, often times with fur, bits of bones, and feathers based on their carnivorous diet
Wounds of your pets would include bite marks or punctures near the neck and head as this is often how a coyote attacks its prey
How to Deal With Coyotes in Your Property
Never feed a coyote if you spot one in your property. If you do this, they will most likely come back for more. You shouldn't run away when you see a coyote. They might chase you. To keep them away, simply yell loudly or use pots and pans, or anything that can make loud noises.
If you see a coyote near your child, do the above tips and slowly carry your child away. Coyotes are like medium-sized dogs. Their size makes them fearful of adult humans because we are much bigger than them. But they can be dangerous to children and smaller pets. They feed primarily on rats, raccoons, opossums, and even foxes.
When you spot a coyote in your yard, it is best to call for help right away. Our team is available anytime, just let us know when you need our assistance. Make sure to stay indoors. Keep your pets inside your house as well to avoid attacks.
Professional Coyote Removal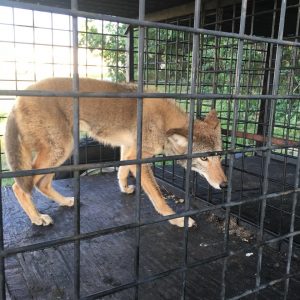 The best way to keep coyotes out is by securing garbage cans and not leaving your pets outdoors. Coyotes consider these as food and so they stick around and wait until they can attack their prey. While waiting for the professionals of Animal Wildlife Trappers, stay indoors. If possible, call your next door neighbors too so they can take the necessary precautions you've taken.
Animal Wildlife Trappers is an animal removal contractor servicing areas in and around Orlando, Florida. We've dealt with numerous coyotes in many neighborhoods over the years so we can give you the assurance that we can help you remove them from your property successfully. We strongly discourage you from handling coyotes on your own. These are dangerous animals that can attack and hurt you, your family, and your pets. Stay far away and wait until help comes along.
Our service areas include Orlando, Maitland, Longwood, Winter Park, Deltona, Sanford, and nearby areas. Aside from coyote removal, Animal Wildlife Trappers can also help you capture other critters in your property like rats, raccoons, squirrels, snakes, and more. For a free estimate and for immediate assistance, call us at 352-267-0546.